Lectura en

2

minutos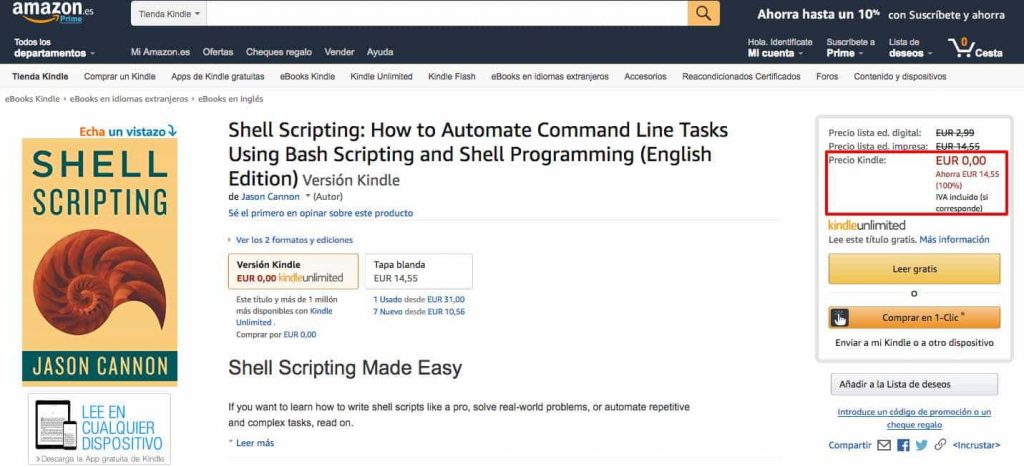 De vez en cuando te llegan chollos como este, enviada por el autor, Jason Cannon, vía email, en la que nos avisa que va a estar disponible en Amazon y durante unos días, gratis, la versión para Kindle del ebook "Shell Scripting: How to Automate Command Line Tasks Using Bash Scripting and Shell Programming". Para l@s que sepáis inglés, os copypasteo parte del mail con la explicación del autor:
…

I just wanted to let you know that my best-selling Linux book, Shell Scripting, is free in Kindle format only from Amazon.com from now until Friday.

If you're in the US =>  Download your free copy here.

If you live elsewhere, there is a slight chance that it might be available for free in your country's Amazon store.  If it's not, I sincerely apologize — I don't have any control over Amazon.  Amazon works in mysterious ways. 😉

To get your book for free:

First, make sure the Kindle price is listed as $0.00.  (If it's not $0.00, then it's NOT free where you are.)

Next, click "Buy now with 1-click".  (Do NOT click on "Read for Free" as that is for the Kindle Unlimited program.)

Instead of asking for a payment, it will just send you to a thank you page because the price is $0.00.

I want to be super clear that you do NOT have to sign up to Kindle Unlimited to get the book free forever.  When it's priced at $0.00 and you click on "Buy now with 1-click," you're sent to a thank you page (no payment required).

Enjoy and share this email with anyone you think would be interested in learning how to improve their shell scripting and automation skills.

…
Jason

P.S. You don't have to own a Kindle device in order to read this book.  Just use the Kindle Cloud Reader or download the Kindle app for your PC, Mac, or mobile device. 

P.P.S. I wanted to share this resource in the hopes that you can take advantage of it.  However, if you don't have an Amazon.com account, then you probably won't be able to download the book.  Sorry, there are no other free options available and no PDF copies available.
Pues eso, disponible en Amazon durante unos días. Jason menciona Amazon.com y he comprobado que está disponible en Amazon.es. Si os interesa, ya sabéis, aprovechad, que serán solo unos días y luego habrá que pagar unos 14€.